Due to extremely high demand, orders placed from today on might not arrive before Christmas.
---
About 2.5 million trees are cut down every day, leaving barren land where flourishing ecosystems once ruled, destroying our planet, displacing starving animals with no place to go. 
When governments and big corporations continue down this destructive path, the fight is left up to people like us. We are the only hope these precious animals have.
Plant 10 Trees
Free Worldwide Shipping
Bracelet length:

 

16-18.5 cm (6.3-7.3 inches)
Material: Natural Chrysocolla Malachite
Animals Are In Danger
Eastern Australia has lost over 50% of its koala population due to recent year's bushfires. There are less than 50,000 koalas in the wild today. Placing these cuddly creatures on the 'vulnerable' species list.
In the Amazon the squirrel monkey, multiple bird species, tapirs, jaguars, and many more are nearing extinction as millions of acres of rainforest continue to be bulldozed and set on fire every day, to make space for the ever-hungry Palm oil, Soy, and beef industries. 
These are some of the most fragile ecosystems we have, with the most delicate animals. Yet we keep destroying their homes for our convenience. Things HAVE to change!
Why Should You Care?
We need trees to live and breathe... It's a no-brainer. Forests host the most diverse biospheres on the planet. Over 80% of terrestrial species rely on forested land to feed and take shelter. These species can be lost forever if we don't make a change.
Forests and woodlands produce breatheable Oxygen, but more so, they actuallly extract harmful particles from the atmosphere, making the air we breathe cleaner.
Make a Direct Impact - Over 160,000 Trees Planted
Millions of acres of trees are cut down every year, and that's not counting the massive destruction caused by wildfires. The damage can not be undone but by purchasing a bracelet from us you will have a direct impact on saving wildlife in the regions that need it most, giving nature a loving hug. 
Help restore natural habitats destroyed by logging and wildfires. Our Mother Earth Bracelet is leading the fight to restore some of our planet's most precious ecosystems. Making them habitable again for wildlife to come back and flourish. Each bracelet plants 10 trees and makes a huge impact!
Customer Reviews
Write a Review
Ask a Question
Filter Reviews:
bracelet
actions
plants
area
wherever
jewellery
granddaughter
piece
others
things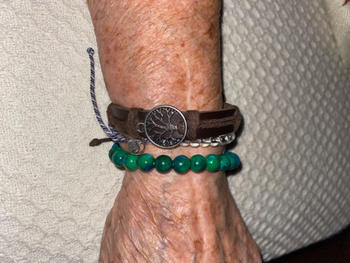 10/09/2021
Mother Earth Bracelet
I love the colour of this bracelet and the fit is perfect.
Margaret P.

United States
12/20/2021
Mother earth bracelet
I bought the bracelets as gifts for my friends. They loved them Only negative thing was they could of come better packaged like in an organza bag for gift giving.
Helen P.

Australia
12/06/2021
The Mother Earth bracelet
Even though I haven't worn it yet, it's still a nice piece of jewellery.
Lisa G.

Australia
10/09/2021
Perfect
I love this bracelet. Beautiful and as shown on site! I purchased this for my granddaughter so she could know that actions can change situations for the good or bad. We choose good. We helped replant vital trees for our planet and help keep our planet clean. A terrific way to enjoy a learning experience and help wherever one can. We have purchased other things from this company. We appreciate what they are doing. Every little bit counts. If others would plant native trees and plants in their area, it could change the face of our country.
Kay W.

United States