Due to extremely high demand, orders placed from today on might not arrive before Christmas.
---
+ Bracelet Size: 17-23 cm (6.7-9 inches)
+ Free Worldwide Shipping
One bracelet. One tree. 🌲
The clothing industry wastes tons of material every year. Good thing we can do something about that. We welcome salvaged materials in our workshop to handmake this classic design that gives back to nature.
Each bracelet purchased plants one tree and helps protect wildlife and ecosystems lost to deforestation. The trees we plant today will make a huge positive impact for generations to come, and help raise awareness for nature.
Make a Direct Impact - Over 160,000 Trees Planted
Millions of acres of trees are cut down every year, and that's not counting the massive destruction caused by wildfires. The damage can not be undone but by purchasing a bracelet from us you will have a direct impact on saving wildlife in the regions that need it most, giving nature a loving hug. 
Help restore natural habitats destroyed by illegal logging and wildfires. Our bracelets are leading the fight to restore some of our planet's most precious ecosystems. Making them habitable again for wildlife to come back and flourish. Each bracelet plants 1 tree and makes a huge impact!
Customer Reviews
Write a Review
Ask a Question
Filter Reviews:
bracelets
Australia
something
wild
women
tastes
designs
habitat
wrist
compliments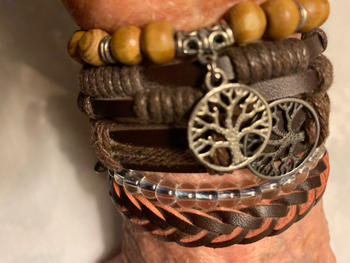 09/22/2020
Recycled leather bracelets
I simply love these bracelets and have had numerous compliments on them. Thank you for doing so much.
Margaret P.

United States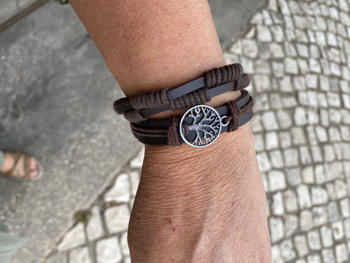 06/02/2020
Good design and quality
Very comfortable and suits me well. Very pleased
Ana M.

Portugal
09/07/2020
Love this bracelet
I love the bracelet, but it is too big for my wrist even when I tighten it all the way. I have to wear it higher up in my arm to fit Also the tie strings are very long. I cut the strings and re tied the knots. Good quality craftsmanship. 3 separate strands.
Jennifer P.

United States
09/04/2020
Treehugers Bracelet
Excellent. Like everything about it and how it was purchased. The main thing is the reforestation of Australia and the globe. Long overdue. Thanks.
Emerald S.

United States
08/23/2020
Wonderfully made
Joyful to be a part of the experience!
Linda S.

United States